Dow is the world's largest chemical company. It manufactures more than 6,000 products that are used in agriculture, materials, construction, and transportation industries. Its portfolio also includes products for use in household and personal care as well as specialty chemicals for industrial use.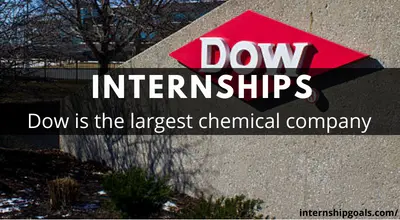 Dow Chemical Company Internships are a summer internship program for students interested in business, engineering, and science. The program provides opportunities to learn about chemistry and explore career options within the company. It also prepares you for future careers by providing knowledge about the chemical industry and its impact on society.
Dow Chemical Company is looking for summer interns. In the career development and internship program, you will be provided with a comprehensive introduction to the business of chemical manufacturing and broad exposure to the global operations of Dow Chemical. The program will also provide an understanding of global trends in industries, markets, and society.
Apply for an internship.
What will you learn? Who will you meet? How will you change the world with us? Start by choosing the region where you want to make an impact.