If you are interested in pursuing a career in the aerospace industry, Lockheed Martin is one of the best places to look. Here's our guide on how to get a job at Lockheed Martin and what skills you need to land a position with this company.
Lockheed Martin, the world's largest defense contractor, was founded in 1916 by a group of investors and led by three individuals. The company is headquartered in Bethesda, Maryland, and has a workforce of more than 270,000 employees.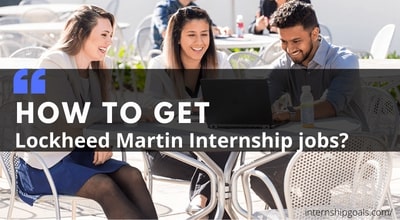 1# Government Affairs Communications Intern
Lockheed Martin's Communications Early Career Intern Program (ECIP) is a competitive internship that provides diverse communications experience. Immersed in the inner workings of the world's leading aerospace and global security company, the Government Affairs Communication Intern will develop extensive, career-building communications skills while supporting the company's Government Affairs organization
Possible work locations include: Virtual, Crystal City, Virginia
Qualifications
Eligible applicants complete an undergraduate or graduate degree in leading communications, political science, or
business schools with outstanding communications skills, intellectual curiosity, and integrity.
Must be a senior graduating in 2023

The employee selected for this position will work remotely full-time at a location other than a Lockheed Martin designated office/job site. 

Schedules range from standard 40 hours over a five-day work week while others may be condensed.

These condensed schedules provide employees with additional time away from the office and are in addition to our Paid Time off benefits
.Schedule for this Position: Part-Time as assigned by the leader
Experience Level: Co-op/Summer Intern
Business Unit: CORPORATE HEADQUARTERS
Career Area: Public Relations
2# Test Equipment Engineer Intern
Interns perform assignments in technical/engineering organizations (e.g., Electronics Engineering, Software Engineering) during vacations and short-term breaks from college attendance while enrolled in an accredited degree program.
This intern will be assigned to update documentation associated with test equipment used to functionally test missile systems. Will require operating the test equipment to obtain familiarity. Assist engineers with troubleshooting activity of test equipment. Develop and maintain an inventory database of test equipment components to track calibration cycles, repairs, or procurement.
Locations: Grand Prairie, Texas
Qualifications:
Enrolled for a bachelor's degree in Electrical Engineering, Computer Science,
Foundational knowledge of electronic circuits and use of basic lab equipment such as multimeters, oscilloscopes,
and power supplies that are obtained via school classroom instruction and during school projects.
Experience Level: Co-op/Summer Intern
Business Unit: MISSILES AND FIRE CONTROL
Career Area: Test Engineering
3# Operations Internship Stratford, Connecticut
Dynamic Components Operations team! The selected candidates will utilize Lean Manufacturing principles including Kaizen, Six Sigma, and root cause analysis to support innovation, corrective actions, and continuous improvement activities. This position will be project-based and each opening will focus on one of the following areas that make up our Dynamic Components Product Center: Assembly, Machine Shop, Gear Machining, or Housing Cell/Processing.
Qualifications:
• Strong Organizational skills including attention to detail
• Working knowledge of Microsoft Office Applications, including proficiency in Excel and PowerPoint.
• Excellent written and verbal communication skills coupled with being a team player
• Experience with databases, data mining, and data analysis
• Comprehension of analytical tools, workflow time study, and process balancing
• Pursuing Bachelor's or Master's degree in Business, Quality, Finance, Industrial Engineering or related fields – Minimum 3.0 GPA, preferred but not required.
Experience Level: Co-op/Summer Intern

Business Unit: RMS

Relocation Available: Possible

Career Area: Manufacturing

Type: Part-Time

Shift: First
4# Data Analyst – Aftermarket Planning & Forecasting
The Material Planning & Forecasting organization is seeking a Data Analyst intern to support the Sikorsky Aftermarket line of business. The candidate must have the technical and customer relationship skills required to understand and propose products or solutions by focusing on customers' needs and requirements.
This position will interface with the different internal teams such as Program Management, Finance, Operations, Inventory Management, and Supply Chain in order to develop & execute material planning strategy for the aftermarket business. Looking for a performance-driven individual with a strong desire to turn data into actionable business intelligence used to empower decision-makers.
Locations: Trumbull, Connecticut
Experience Level: Co-op/Summer Intern
Career Area: Data Science
Type: Full-Time
Shift: First
5# Systems Engineering Intern
Bethesda, MD
10000+ Employees
1995
Company – Public (LMT)
Aerospace & Defense