When writing an internship cover letter with no experience, it is important to focus on what you can bring to the position. Start by introducing yourself and explaining why you are interested in the opportunity. Then, highlight any relevant skills or qualifications that make you a strong candidate for the job such as computer proficiency, organizational abilities, research capabilities or interpersonal skills. Additionally, emphasize any volunteer work or academic successes that might make you stand out from other applicants. End your letter by thanking them for their consideration and expressing your enthusiasm for meeting with them in person to discuss how your talents could benefit their company. Writing a cover letter for an internship when you don't have any experience can be intimidating, especially if you're not sure where to start. However, by highlighting relevant skills and experiences, emphasizing your enthusiasm and dedication to the field, and tailoring the content of your letter to the job description, you can create an impressive document that will help land you an interview. Be sure to also use specific examples from past experiences that demonstrate how your qualifications make you well-suited for the position – this will show employers that although limited in terms of professional experience specifically related to internships, you still possess transferable skills they are looking for.
How To Write A Cover Letter For An Internship? | Example
Cover Letter With No Experience But Willing to Learn
If you're applying for a job and have little to no experience, writing a cover letter can be challenging. However, don't let that stop you from submitting an impressive application! Demonstrate your enthusiasm for the position by highlighting your willingness to learn new skills and experiences. Mention any relevant coursework or volunteer work that shows how you've prepared yourself for this role. Lastly, explain why you believe this job is the right fit for you and include examples of times when your eagerness to learn has helped drive success in previous roles.
internship cover letter with no experience example
Dear [Employer],
I am writing to apply for the [Internship] position at [Company]. As a [Year] student studying [Major] at [University], I am excited to gain practical experience in the [Industry] industry and believe that an internship at [Company] would be a valuable learning opportunity for me. Although I have no prior internship experience, I have gained a strong foundation in [Industry] through my coursework, including classes such as [Relevant Classes]. I have also completed several projects that demonstrate my skills and interests, including [Project] and [Project]. In addition to my coursework and projects, I have participated in [Extracurricular Activity] and have gained valuable skills such as [Skill] and [Skill]. I am confident that my enthusiasm and dedication to learning make me a strong fit for this internship. Thank you for considering my application. I am excited about the opportunity to intern at [Company] and contribute to your team. I would welcome the opportunity to discuss my qualifications further and learn more about the internship. Sincerely, [Your Name] Remember to customize this template to fit your specific skills, experiences, and the company and internship you are applying for. Also, be sure to edit and proofread your cover letter carefully to ensure that it is error-free.
It Supports a Cover Letter No Experience
If you're applying for an IT support position but don't have any relevant experience, a well-crafted cover letter can still make a great impression on employers. When writing your cover letter, focus on the skills and knowledge that are related to the job requirements. Highlight the transferable tech skills you have from other roles, or from studying computer science or another field of technology.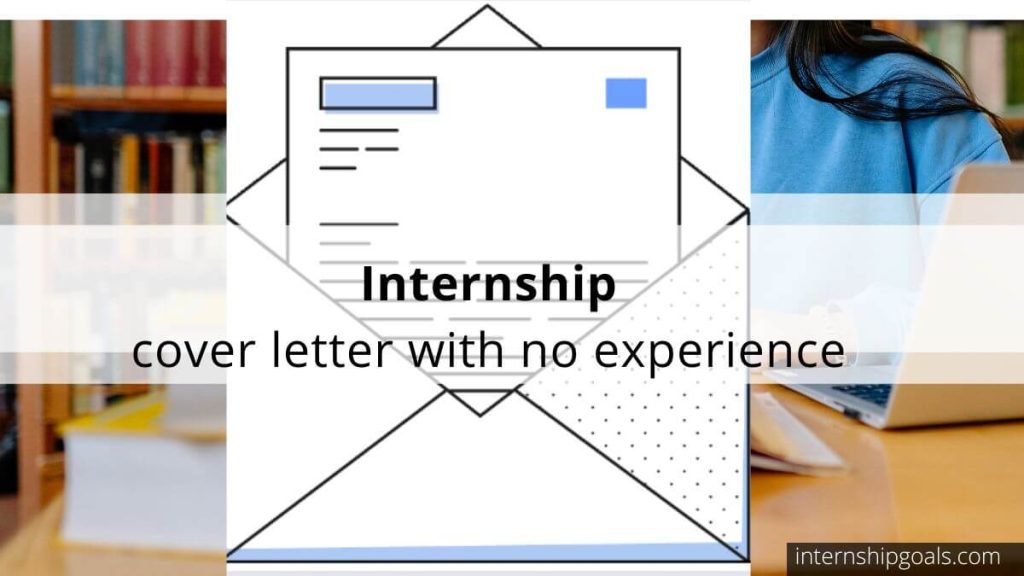 How Do I Write a Cover Letter for an Internship With No Experience?
When writing a cover letter for an internship with no experience, it is important to focus on the skills that you do have and how they could be beneficial to the organization. Emphasize any relevant education or courses that you have taken and explain why your unique set of experiences make you the ideal candidate for this position. Additionally, highlight any extracurricular activities that demonstrate your commitment and passion for this particular field. Finally, express enthusiasm about learning from experts in the organization and gaining new skills through interning there. By focusing on what qualities you can bring to this role, employers will see that even though you may lack experience in certain areas, you are eager to develop those skills during your time as an intern.
What to Say When Applying for an Internship With No Experience?
When applying for an internship with no experience, it is important to showcase your skills and qualifications. Focus on the skills you have acquired through coursework or other activities such as leadership roles or volunteer experiences. Be sure to demonstrate how these experiences have prepared you for the role by providing concrete examples of how you were able to use them in a meaningful way. Additionally, emphasize any qualities that make you stand out from other applicants, such as strong communication and problem-solving abilities. Lastly, express enthusiasm about the opportunity and explain why this particular internship aligns with your career goals.
How Do You Say You Have No Experience But Willing to Learn in a Cover Letter?
In a cover letter, you can emphasize your eagerness to learn and willingness to take on new challenges by highlighting any transferable skills or knowledge that you may have obtained from previous jobs, internships, volunteer work, or educational experiences. Additionally, it is important to demonstrate enthusiasm for the position and express that you are open to learning more about the role.
Should I Write a Cover Letter If I Have No Experience?
Writing a cover letter can be beneficial even if you don't have experience in the field. It is an opportunity to demonstrate your enthusiasm and knowledge of the industry, as well as explain why you are a great fit for the job. A good cover letter should show that you understand what the role requires and how your skills could be an asset to the company. It's also important to highlight any transferable skills or volunteer work that shows evidence of commitment and dedication – these are qualities that all employers look for!
Conclusion
This blog post provides a great overview of how to write an effective cover letter for an internship even with no experience. By outlining the key elements, such as emphasizing soft skills, showcasing relevant coursework, and articulating relevant accomplishments it is possible to craft a strong cover letter that can help you stand out from other applicants. With this guide in hand, job seekers will be better equipped to make the most of their applications and land the internships they desire.