Mechanical Engineering Intern Summer 2022
Johnson & Johnson (J&J) is a leading healthcare company, and it's no surprise that one of the primary reasons for this success is its focus on providing its customers with products that can make their lives better. Every year, J&J develops and releases more than 400 new products to the market. This includes medicines, over-the-counter medications, diagnostic tests, and other health care services.
Johnson & Johnson Robotics and Digital Solutions (RAD) is recruiting for a Mechanical Engineering and Robotics Summer 2022 Intern, located in Santa Clara, California.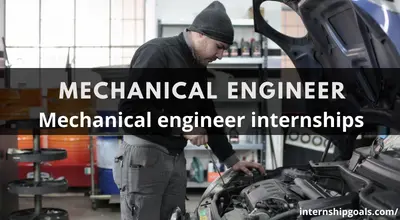 Mechanical Engineering (ME) Interns will work directly with a team of experienced engineers to assist in the ideation, design, prototyping, and evaluation of next-generation solutions used within the medical device space. RAD is seeking motivated individuals who are interested in pursuing a career in complex mechanical systems and advanced CAD. Typical responsibilities revolve around concept creation, CAD modeling, hands-on manufacturing of prototypes, bench testing, and reports.
Intern locations
Internships are available at United States-California-Santa Clara-5490 Great America Pkwy
Responsibilities:
Job responsibilities are the main duties or tasks that are assigned to a person in a certain job. Each job has specific responsibilities that are assigned to the job holder, depending on his qualifications. It is important to know what are the job requirements, duties, tasks, and duties before getting into a job. Mechanical Engineering Responsibilities are given below :
Assist with design and prototype activities including CAD, manufacturing, assembly, testing, debugging, and documentation for mechanical assemblies and systems
Coordinate with different teams and coworkers to accomplish tasks
Generate and present design concepts, perform design reviews to team members
Participate in the clinical assessment of robotic devices in inanimate anatomical models
Educational Qualifications
Have you made a decision about the post? If you choose your qualification, check whether your experience is matching with this role. Check the following qualification. If you think, you are eligible, then apply for the job!
Currently enrolled in an accredited program pursuing a bachelor's or graduate degree in Mechanical Engineering or similar and returning to an academic program after the completion of the internship.
Class standing of a Sophomore or above
Students with graduation dates of May 2022 must extend graduation one term to qualify for this position, or be starting an additional degree program in the Fall
Experience with SolidWorks including creating models, assemblies, and detailed drawings
Experience with hand tools and power tools
Self-starter with a proven track record of engaging in self-directed learning and remaining productive with minimal direction
Must be at least 18 years of age
Must have work authorization in the United States at the time of hire, and maintain ongoing work authorization during employment
Must be available to work full-time approximately from May August 2022
Preferred:
Prior internship or Co-op experience recommended
Robotics or medical device experience preferred
internships Details
Here we have covered the job information of Johnson & Johnson is a global health care company. We have added every detail of the job here like the post, employment Type Duration, location, Deadline, etc.
internships Details
Job Title: Mechanical Engineering Intern Summer 2022
Employment Type: Internship
Job Function: General Administration
Duration:  12 weeks during the summer of 2022
Deadline: Open May August 2022
Organization: Auris Health, Inc. (6267)
Primary Location: United States-California-Santa Clara-5490 Great America Pkwy
how many internships are compulsory for engineering students
Maybe or maybe not
Before 2–3 years it was not compulsory to go for an internship or training. But as we all know the quality to quantity ratio of current engineering aspirants. And many studies and surveys clearly concluded that almost 70% of engineering pass outs are not even eligible to be employed. These factors have changed the scenario of the importance of internships and training during engineering.
For the last 2 years, many universities have made it compulsory for students to do at least 1 internship or training during their engineering otherwise they will face some problems in their on-campus placements. Because we all know that internships give you an experience of how education is applied to real-world industries. This somehow makes us ready to face the professional world after completing our studies.
It has been allegedly said that in the upcoming years UGC is going to make internships compulsory for everyone to make them fit for the technical world.
So, it totally depends on a person's choice and university whether he wants to do an internship or not. But you should go for as many internships as you can during engineering.
Hope this answer will help you.
Edit: Those who are passing out in 2021 should undergo at least 3 internships/training is still not compulsory. This news got hype in May 2017 but still, no such rule got rolled out.