Berea College is a private liberal arts work college in Berea, Kentucky. Founded in 1855, Berea College was the first college in the Southern United States to be coeducational and racially integrated.
Berea College offers 100% fully funded scholarships to international students. Berea College also has an open application for international candidates seeking to study in Berea. So if you are interested in studying at Berea, please apply now.
Berea College Scholarships 2022-2023 for International Students
2022-2023 Berea College Scholarship for International Students is a 100% funded undergraduate scholarship that offers full financial support to 100% of enrolled international students for the duration of their first academic year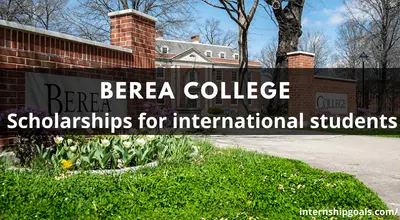 Costs and Financial Aid Berea College Scholarship
Are you considering Berea College as a possible college choice? If so, you'll want to read this scholarship article to learn about the costs and financial aid available at Berea.
Berea College is the only college in North America that provides 100% funding for international students during their first year at the school. This combination of financial aid and scholarships helps to cover the expenses for tuition, dormitory room and board, travel costs, and more.
In subsequent years, international students are expected to save 1,000 US dollars per year so as to contribute toward their expenses. The college does expect them to find summer jobs and apply that money toward their costs.
Accepted international students must first complete an application to the university and pay a $50 (US) application fee along with a $2,200 (US) deposit. For students that are unable to pay all or a portion of this deposit, additional financial aid is available.
All international students are provided with a paid, on-campus job through the College's Work Program throughout the academic year. Students may use their wages (about US $2,000 in the first year) to cover personal expenses.
Eligibility Criteria for Berea College Scholarships | Requirements & Procedures
To be eligible for a Berea College scholarship, you must fulfill all of the following requirements. By meeting these requirements, you'll be well on your way to securing the scholarship that's right for you.
Required Language: English.
Study Level: Undergraduate
Nationality: International students
Application for International Admission and Scholarship form
Personal essay for students and teachers that is written for English classes. Includes title and cover sheet.
Official scores from at least one of the following exams: TOEFL, IELTS, ACT, or SAT. Please register and take the test as soon as possible to include a copy of your scores in your application so that we receive it by the deadline.
Official school records of students who attend a secondary institution.
A personal statement of financial circumstances  is a written document that details an individual's financial situation
International Financial Questionnaire (IFQ).
International Financial Recommendation Form.
Two (2) recommendation forms, at least one of which should be written by a current or former teacher.
Scholarships
Details
Here we have covered the Scholarship information of Berea College, We have included the following information about the college on this page: level of study, courses offered, the deadline for applications, length of the program, etc.
Scholarship Institution(s):  Berea College, USA
Scholarship Type:  Tuition award
Scholarship Worth:  100% of tuition costs
Number of Awards: Several
Eligible Countries: All world countries.
Application Deadline:  November 30 (Annually)
Program Period:  Four years or longer depending on the major.
Courses Offered: Art, Biology, Business, Nursing, Computer Science, For more majors click here
How to Apply for Berea College Scholarship?
Please follow the application instructions to apply for the Berea College Scholarship
Read the requirements carefully to check if you are eligible here.
Download and fill out the application form from here.
Mail the application form and send it along with the other requirements to Berea College Office of Admissions – 209 Chestnut Street, Berea, KY 40403 USA.
Berea official College Website
To learn more about Berea College Scholarship, visit the official website at: