Montana State University is always looking to provide quality education to its students. That's why we're proud to offer the Presidential Scholarship, which is available to graduating seniors in the state of Montana. This scholarship pays for up to four years of tuition at MSU, and it's available to any student who meets the requirements. So if you're a high school senior who is planning on attending MSU, be sure to apply for this scholarship – you might just get it!
1# International Undergraduate Merit-Based Scholarship
Montana State University is always looking for talented and ambitious students to come and study here. We have a variety of programs that cater to a variety of interests, and we believe that anyone with the potential to achieve greatness should have the opportunity to attend our school. That's why we offer a number of merit-based scholarships, which are designed to reward students for their outstanding academic achievements.
Students who are offered full admission to attend MSU with a cumulative GPA of 2.5+ on a 4.0 scale are eligible for consideration.
Awards range from $5,000-$12,000 per year.
This scholarship can be renewed annually if the student maintains a 3.0 GPA on a 4.0 scale, maintains full-time student status, and attends as a non-resident student.
The Presidential Scholarships are MSU's top academic awards, recognizing scholastic achievement, demonstrated leadership, and unique personal qualities. Scholarship recipients receive a generous stipend, unique opportunities for other funding assistance in future years, and tuition waivers for the duration of their undergraduate education. Recent Presidential Scholars have gone on to receive prestigious awards.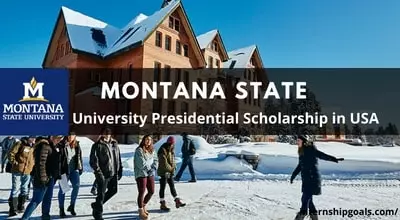 Eligible and interested candidates can apply for this scholarship through the University's online portal or by visiting: https://www.montana.edu/honors/presidential/
The application deadline is early December of each year
 for first-year students for the Fall semester before you can apply for the Presidential Scholarship.
Students that are offered Conditional Admission
or have 12+ credits from a university or college are not eligible for the Presidential Scholarship.
3# Other Scholarship Opportunites
Scholarships are offered by many different Montana State University colleges and departments. There are a few links below which can help you get started on locating the information you need to make sure that you're taking advantage of the scholarships that can be applied to your current status as an MSU student
Below are some links that can provide you with more information about college and department scholarship opportunities:
Montana State University Presidential Scholarship info
| | |
| --- | --- |
| Title: | Montana State University – USA |
| Types: | Tuition award |
| Awards: | Several |
| Degree: | Undergraduate |
| Study in: | International students |
| Scholarship Worth | Tuition fee waivers, stipends & other benefits |
| Application Deadline: | Early December (Each Year) |