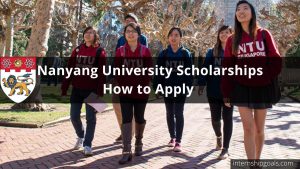 Quick Info Nanyang Scholarship
Country: Singapore
University: Nanyang Technological University
Degree Level: Graduate, Undergraduate
Financial Coverage: Fully Funded
Eligibility Criteria:
All international students can apply.
A candidate should hold a passion for research.
A candidate must have good writing skills and fluency in English.
A candidate will be prioritized for possessing extra-curricular activities.
A candidate must possess leadership potential and qualities
Benefits Of Scholarship
The NTU-USP Scholarship covers up to the normal program duration on the condition that the scholarship holder maintains a record of good academic performance and exemplary conduct.
For Graduates:
​
​Singapore Citizen
​Singapore Permanent Resident
​International Student
​Monthly Stipend
(with effect from 1 August 2021)
​S$3,600
​​S$3,400
​​S$3,100
​Conference Allowance
​Up to S$4,000 per financial year
(April previous year to March current year) ​
​Book Allowance
​Annual grant of $500 ​ ​
​IT Allowance
A one-time allowance of $1,500​ ​ ​
​Thesis Allowance
One time allowance of $600
It will be disbursed during the final year of scholarship renewal. ​ ​
Central Provident Fund (CPF) contributions shall be provided at a rate pegged to the prevailing employer's contribution rate set by CPF, on top of the monthly stipend received.
2International Students must perform teaching/ laboratory supervision duties to fulfill the requirements of the Graduate Assistantship Programme (GAP). Singaporeans and Singapore Permanent Residents may perform GAP at the discretion of the schools.
This award also covers the annual tuition fee.
Priority will be given to subsidized campus accommodation.
For Undergraduates:
Full coverage of subsidized tuition fees (after Tuition Grant​).
Living allowance of  $6,500 per academic year.
Accommodation allowance of up to  $2,000 per academic year (applicable to scholarship holders who reside in NTU hostels only).
Computer allowance of $1,750 (one-off).
Travel Grant of up to $5,000 for an overseas study/attachment program subject to terms and conditions in the Travel Grant Form.
Overseas benefits in the semester of the NTU-USP Study Abroad or NTU Exchange Programme.
No bond is attached to the NTU-USP Scholarship apart from the three-year bond applicable to all Singapore PRs and international students under the MOE Tuition Grant Scheme.
Available Fields of Study
Graduate Programmes:
Asian School of Environment

Graduate College

Lee Kong Chian School of Medicine

National Institute of Education

Nanyang Business School

School of Art, Design, and Media

School of Biological Sciences

School of Chemical and Biomedical Engineering

School of Computer Science and Engineering

School of Electrical and Electronic Engineering

School of Humanities

School of Materials Science and Engineering

School of Mechanical and Aerospace Engineering

School of Physical and Mathematical Sciences

School of Social Sciences

Wee Kim Wee School of Communication and Information

S.Rajaratnam School of International Studies
Undergraduate Programs
​​​​​​​​​​Accountancy and Business ​
​​​​​​​​​​Art, Design & Media ​
Communication Studies
​​​​​​​​​​Education ​
​​​​​​​​​​Engineering ​
​​​​​​​​​​Humanities ​
​​​​​​​​​​Medicine ​
​​​​​​​​​​Science ​
​​​​​​​​​​Social Sciences ​
​​​​​​​​​​Sport Science ​
Application Deadlines:
There are 3 different deadlines available for Nanyang International Scholarships in Singapore:
Nanyang Scholarship: 19 February 2023
Nanyang President's Graduate Scholarship: 31 December 2022.
Singapore International Graduate Award (SINGA): 1 December 2022.
Applicants should submit the following documents
Personal statement (300 words limit)
A recent digital passport-size photo
Referee's appraisal
How to Apply:
The Application Link is Online. Please Apply through Online Link. To Apply, Please Visit the Official website of the NTU University Singapore Scholarship.